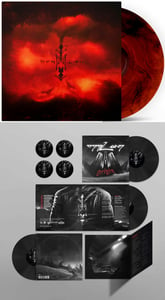 €

24.99
Vermilion LP
Comes in a limited edition beautiful marbled red/black vinyl LP.
Tracklisting:
01. Vermillion Pt.1: Arrival
02. Vermillion Pt.2: Below
03. Vermillion Pt.3: The Walls Of The Mind
04. Vermillion Pt.4: Feed The Void
05. Vermillion Pt.5: Emancipator
06. Pathway
07. Resonance
08. Unity
33rpm
Origin
Includes a full sized 12' booklet.
There is a separate piece of art created for each song so with the large booklet you can really get the FULL experience of this album listening to the record mastered separately and especially for vinyl.
This is a double LP with 45rpm going for the best quality possible.
The shipping is rather costly so we recommend you pick up the moderately priced t-shirt bundle to even things up a bit :)
2LP + Shirt = 39.99€
WHEN BUYING BUNDLE:
PLEASE ADD THE T-SHIRT OF YOUR CHOICE IN THE COMMENT SECTION.

WRITE UP MODEL, COLOUR & SIZE!
If shipping price is missing from your country, please contact us.